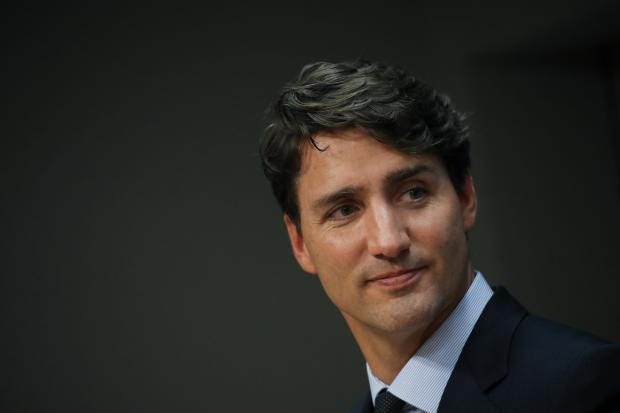 On Tuesday, Justin Trudeau delivered an apology to the lesbian, gay, bisexual, trans, queer and two-spirited (LGBTQ2S) community for the injustices and persecutions we have suffered.
In the mid-20th Century, the lives of thousands of gay and lesbian people in various factions of the government were destroyedthrough intimidation, interrogation, and indictment. This damage should not be forgotten and, combined with other tangible actions like expunging these people's criminal records, needs to be apologised for. But we must not be so complacent as to position this apology as the crowning achievement or final destination for the entire LGBTQ2S community; it is just another chapter.
It may seem juvenile to reject an offer from a government trying to make amends after causing so much harm to so many LGBTQ2S people. But it is so important to rise to the challenge, and ask the hard questions: who is this apology for and for what political purposes? Who are we forgetting?
Justin Trudeau on raising his sons as feminists
Although we acknowledge the recent trans legal gains to which the liberal government has contributed, we also denounce the lack of efforts to solve urgent issues that continue to affect the most precarious and stigmatised members of our community.
Trans migrants
Trans migrants without Canadian citizenship are not entitled to legal recognition through legal name and gender marker change in Quebec. This means that they navigate society with IDs that have names and genders that do not match their identities and appearances.
Not having IDs that match their gender presentations forces trans migrants to publicly out themselves as trans to strangers, exposing them to transphobic violence and discrimination. Many are refused services, housing, and employment for having IDs that out them as transgender.
Although this has been denounced by many trans rights advocatesand allies, Quebec still forbids trans migrants from having correct IDs. The federal government, although aware of this situation, has not sought solutions to this problem. We need coordination between the provinces, territories and federal government to make sure that trans people, including trans migrants, have the right to legal recognition everywhere in Canada.
Trans migrant sex workers
Trans migrant women who engage in sex work have a history of criminalisation. Targeted as sex workers, trans and racialised migrants, many have been violently arrested and abused by the police. I spoke to Jessy, 55, and this is a situation she knows too well. When a police officer discovered that she was a transsexual during an arrest at her home, his demeanor changed and threats followed. ''The police told me that they were going to take me to the woods and kill me,'' remembers Jessy.
When defending themselves against violent arrests, many end up being charged with assault on a police officer. Nassima, 30, because of being a migrant trans woman of color who sold sex, was arrested by two police officers, handcuffed and violently put at the back of a police car with the windows all closed. Panicked, she kicked out the police car window. She was charged with mischief, and served a 52-day jail sentence. A criminal record with such a serious charge can result in punishments that vary from a few days in a men's jail to not being able to obtain permanent residency or citizenship. Some of these trans people are threatened with deportation. Some are deported.
An apology is not enough for this community who has been among the first targets of state surveillance, police violence, legal criminalisation, and immigration adversities.
Trans people in Prison
Correctional Services Canada (CSC) routinely places trans women in men's prisons against their will if they do not adhere to outdated models of medical transition and transgender identity, deny or restrict access to appropriate medical care, forbid the wearing of gender-affirming items, and subjugate trans people in prisons, like many other people behind bars, to a host of other detrimental conditions. These issues were brought to Trudeau's attention in January 2017, and he committed to setting in motion changes, prompting the CSC to institute an interim policy treating each case separately.
In a November roundtable discussion with Randy Boissonnault, Special Advisor to the Prime Minister on LGBTQ2 issues, members of the Prisoner Correspondence Project (PCP), presented nine demands for systemic changes, drafted in consultation with incarcerated queer and trans members of the project, along with a petition totaling nearly 5,000 signatures and multiple endorsements from community groups across the country.
It's been nearly one year since the commitment from Trudeau and CSC to change CSC's treatment of trans people in prison. Before becoming the first transgender inmate to be transferred to an institution based on gender identity rather than physical anatomy, Fallon Aubee says she experienced countless threats and deplorable conditions, including spending six months in segregation for being transgender. It remains to be seen, however, if this new institution will be equipped to support the specific needs of trans women like Aubee. Other trans women, such as Jill, continue to serve their sentence in a men's prison, in this case in Western Canada. In the last year, she has had her women's clothing, makeup, and other essential gender-affirming items destroyed by correctional officers and it took months to replace these vital items. This apology is not for them and it will do nothing to ameliorate their situation.
As trans rights advocates, we demand actions and words that atone for the ongoing systemic transphobia and institutional violence to which the most marginalised trans people have been subjected to for far too many decades. Injustice and discrimination perpetrated by the state and experienced by some groups in our community are ongoing, past and present, and known to both our elders and our youth.
While it is clear the focus of the government is on presenting a progressive image, that facade breaks down quickly when appeals to transform the system in ways that benefit the most marginalised in the queer and trans community go unheard. So now, more than ever, is time to listen, and to act.
http://www.independent.co.uk/voices/justin-trudeau-lgbt-queer-transgender-apology-canada-government-crimes-cold-war-discrimination-a8084276.htmlhttp://www.independent.co.uk/voices/justin-trudeau-lgbt-queer-transgender-apology-canada-government-crimes-cold-war-discrimination-a8084276.html