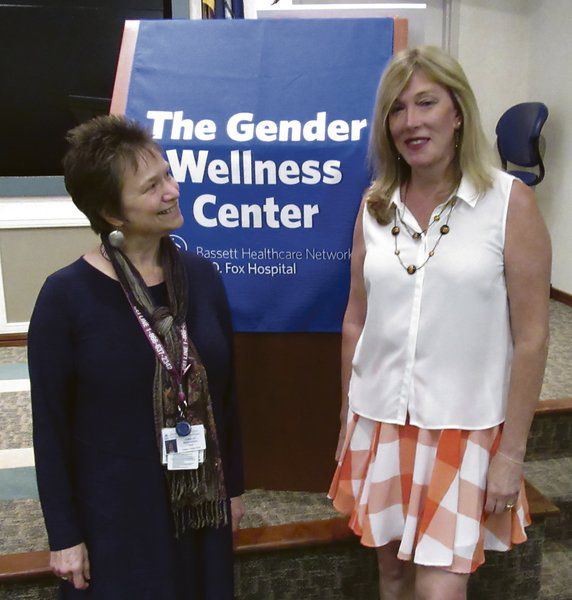 Bassett Medical Center welcomed a national leader in transgender health and gender confirmation surgery Thursday, where she discussed cultural competency and the needs of transgender patients.
The network's alumni association invited Dr. Marci Bowers as part of its guest physician series for a Grand Rounds and panel for resident doctors and medical students.
Bowers practices gender confirmation surgery in Burlingame, California, and as the first out trans woman to perform such operations, is considered a pioneer.
The panel discussion included three patients from the Gender Wellness Center in Oneonta, which has been a part of A.O. Fox Hospital for three years and is helmed by Drs. Carolyn and Christopher Wolf-Gould.
Dr. Carolyn Wolf-Gould has provided care for transgender patients since 2007, but her practice has boomed to include more than 500 patients over the past five years.
"It's a huge underserved population," she said.
Wolf-Gould attributed the growth to changing cultural attitudes and word of mouth among transgender people. Patients regularly travel from out of state for their services, which include primary care, mental health, hormone therapy and gynecologic care.
The GWC was awarded a $500,000 grant from the Robert Wood Johnson Foundation last year to improve trans health and wellness, and is part of a program aimed at reducing disparities in health care across the United States.
Access to the proper physicians is one of the biggest problems in trans health care, Bowers said, and patients are often treated with disrespect by their primary care doctors.
Most doctors only receive about an hour of LGBT training. There are no medical board questions related to it, and that's what has to change in a global sense, according to Bowers.
Bassett has begun sending residents for a day of training at the GWC, and they have an option to stay a second day, Wolf-Gould said.
The group of residents and students Bowers and Wolf-Gould spoke with included international doctors, who added to the discussion of trans health as a global issue related to diversity. Education about how to address and respect these patients will lead to better communication with doctors, Bowers said.
New York has made strides in this area recently, including opening Medicaid coverage for transgender-related health care in 2015. Across the country, 19 other states have mandated coverage.
Although Wolf-Gould admits there is some anxiety among her patients about potentially losing health coverage or job security in the current political climate, both doctors agreed that that the momentum of access to the right care for trans people is moving toward fairness.
"We're driven by science," Bowers added, citing Endocrine Society research on gender dysphoria. "And on a personal level, parents get it."
Gender identity is a concrete thing for kids, usually established by the age of 6, she said. They don't want to act like or wear the clothes of their birth-assigned gender.
The millennial generation is more demanding of honesty and looking to science, rather than being led by guilt or religion, and the number of out trans people will force changes on the medical establishment, Bowers said.
"There is a limit, it's not chaos," she said.
Wolf-Gould and the GWC hold education sessions in area schools, partnering with the Tigris Training Institute for Gender, Relationships, Identity, and Sexuality.
The center hopes to expand the types of gender affirming surgeries it offers, she said. There are only two gender surgeons in New York state, with wait lists of over a year, and she feels the area could support such a specialist.
As more people are exposed to transgenderism, attitudes are already changing about trans health, and the center's goal is to bring care "from the margins to the mainstream."
http://www.thedailystar.com/news/local_news/bassett-welcomes-transgender-doctor-for-talk/article_0ecd2ece-8cbf-5404-9275-2dfcdb246654.html