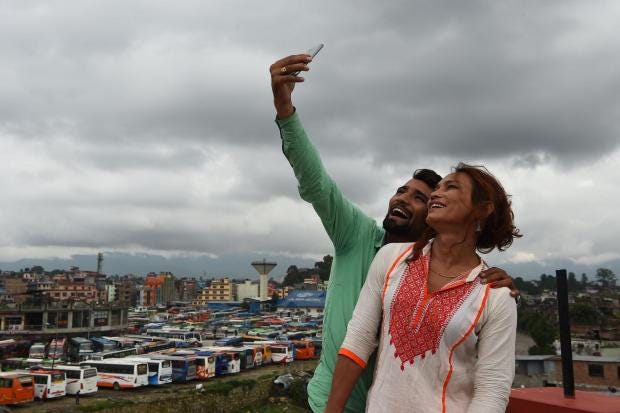 A bride who became the first transgender woman  to be formally married in Nepal has said she has found acceptance among her friends and family.
Monika Shahi Nath wed her 22-year-old husband Ramesh Nath Yogi in May, receiving a marriage certificate from officials despite the Himalyan country having no official laws on transgender unions.
The 40-year-old said she feared she would not be welcomed into her husband's family
But she told the Agence France Presse (AFP) news agency that the couple were "happy and feel accepted as husband and wife".
She added: "I never dreamed that one day I would be someone's wife, that I would be loved as a daughter-in-law."
Nepal already has some of South Asia's most progressive policies on homosexuality and gender identity and Ms Shah reportedly became the first Nepali to get a passport with an "other" gender designation on her passport.
Ms Nath grew up as a boy called Manoj in a remote village in the west of the country where she said she always felt different and became "fascinated with women's clothing".
In her twenties she started wearing her sister's clothes before leaving home.
"Away from my home, I would secretly become a woman. It would make me very happy, but I was afraid to tell my family, I felt I would shame them," she said.
Her family see her as "as a woman now," she added.
Mr Yogi's family have also reportedly accepted her, although legal experts, however, have said the couple could face accusations of polygamy – which is illegal in Nepal – as Mr Yogi already has a wife and two children.
http://www.independent.co.uk/news/world/asia/transgender-bride-nepal-first-married-couple-accepted-monika-shahi-nath-a7992426.html