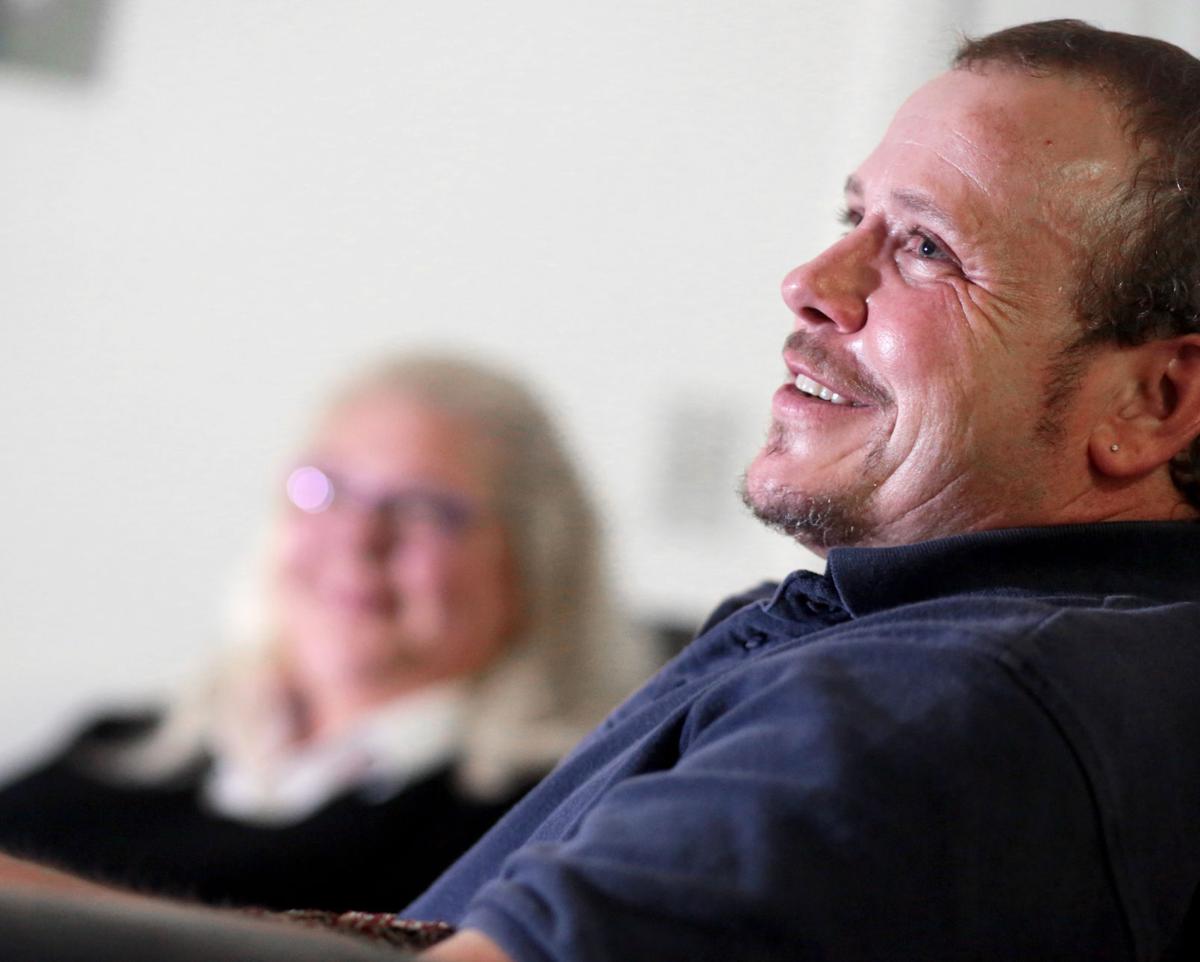 Born and raised female, Casey Sexton worked hard to identify as male.
He changed his name. He took testosterone treatments. He saved up for surgery to remove his breasts. When he hit the jackpot at Dejope Casino in 2010, he paid for the $6,500 operation.
Then, last year, as Sexton was finally living as a transgender man, he got a diagnosis perhaps feared most by women: breast cancer.
"I thought, 'You've got to be kidding me,'" said Sexton, 54, of Madison. "Out of all the things I could get, I get that?'"
His ordeal highlights some of the challenges transgender people and their doctors face when it comes to health care — from a hesitancy to seek care and denials of insurance coverage to concern over how to safely balance hormones in the body.
Sexton's praise for the care he received at UW Health underscores its designation as one of 303 LGBTQ care-affirming facilities in the 2017 Healthcare Equality Index by the Human Rights Campaign.
"They treated me with respect," he said. "They welcomed me."
Having most of his breast tissue removed in his transition to a male identity decreased Sexton's risk for breast cancer but didn't eliminate it, said Dr. Mark Burkard, his oncologist at UW Health. His testosterone treatments may have lowered his risk in one way but increased it in another, Burkard said.
Sexton didn't have his ovaries removed, as some transgender men do, which would have further lowered his risk, Burkard said.
Sexton's breast cancer, diagnosed in April 2016, was relatively aggressive, having spread to many lymph nodes. After eight rounds of chemotherapy, three surgeries and more than a month of radiation, he is recovering.
He's on a drug to prevent a recurrence of breast cancer, which has given him menopausal hot flashes — something his testosterone treatments had blocked.
Breast cancer in men is not unheard of. Of the 255,000 people expected to be diagnosed with breast cancer this year in the United States, nearly 2,500 of them will be people born male, according to the American Cancer Society.
It's not clear how often transgender men, who are born female, get breast cancer, but their risk is likely lower than for women, Burkard said.
"Casey is particularly unlucky because his risk should have gone down and yet he developed breast cancer," he said.
'Always felt like a boy'
Sexton, who grew up in Middleton before the concept of transgender people became mainstream, said he didn't feel female even as a young child.
"I always felt like I was a boy," he said. "I was a tomboy back then. That's what we said."
When he was 14 or 15, he read a piece by advice columnist Ann Landers that discussed the idea of being transgender. It was the first time he had heard the term.
"I went, 'Oh, that's it. That makes sense,'" he said.
In his mid-20s, he started going by Casey. He doesn't want to share his given name, saying high school was a bad experience, which resulted in him dropping out.
It wasn't until 1999, when he was in his mid-30s, that Sexton started taking testosterone. As he gradually took on more of a male appearance, people started treating him as a man.
But he still had large breasts, which he tried to conceal with a tight sports bra. "It was really uncomfortable because I looked like a guy, but people would touch my back, and I had a bra," he said.
Working in restaurants and tiling floors, it wasn't easy to save money for breast removal surgery. After his winnings at Dejope, now Ho-Chunk Gaming Madison, he went to Dr. Thomas Bartell, a plastic surgeon who did the operation in Madison.
Discovering a lump
In the spring of 2015, Sexton felt a lump, the size of an olive, below his right armpit.
He figured it was scar tissue from his breast removal surgery. He didn't think he could still get breast cancer. For those reasons, and because he didn't like how some doctors had treated him in the past, he didn't seek medical care.
That December, the lump started hurting. Sexton called his doctor, and tests confirmed he had breast cancer. It was stage 3a — a fairly large tumor, with many lymph nodes involved, said Jane Jachowicz, his breast center patient navigator at UW Health.
Soon after Sexton started chemotherapy, he got a notice from his insurance company, saying the treatment wouldn't be covered because of confusion over his gender.
At his jewelry repair job, where he had the insurance, Sexton was listed as male. But his medical chart said he had female breast cancer.
His boss explained the situation to the insurer, and the company covered the care.
In October, Sexton had surgeries to remove his tumor and cancerous lymph nodes.
After his radiation treatments ended in February, he started taking tamoxifen, a drug that blocks estrogen to reduce the risk of breast cancer returning. The drug has given him hot flashes, something he likely wouldn't have experienced otherwise, as his testosterone treatments ended his monthly periods years ago.
Continuing to stay on testosterone is a concern, however, because it could slightly increase the chance of his breast cancer coming back, Burkard said. Yet, stopping testosterone would make it difficult for Sexton to live as a male.
Burkard and Sexton discussed the trade-offs and decided he'd stay on testosterone. "I thought it was a reasonable and fairly safe, but not absolutely safe, decision," Burkard said.
Sexton still feels twinges of pain in his chest from his recent surgeries. He returns to the UW Health breast center periodically for tests. After months of being reclusive during his cancer treatments, he's becoming more social.
"It was kind of just surviving and going through the motions, without being a wreck," he said.
He agreed to talk about his experience to encourage transgender patients and others who might feel marginalized by the health care system to seek medical care when needed.