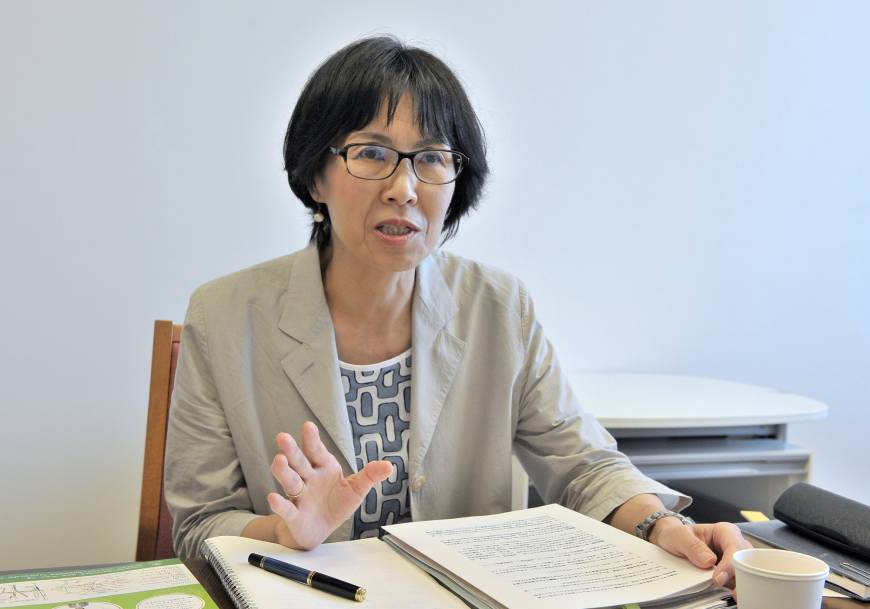 It was at the end of 2015 when an all-girl junior high school affiliated with Japan Women's University received an inquiry from a mother of an elementary school student, asking if her daughter would be eligible to apply for enrollment.
The mother said her daughter has been diagnosed with gender identity disorder and is listed as male on the family registry.
After a few months of consideration, the school's officials concluded the child couldn't be admitted because the school didn't have a system or the knowledge to provide adequate support for GID students.
But the unexpected inquiry prompted the all-women university to launch a working group this year to consider for the first time opening its doors to students who were born male but identify as female.
"It will be a challenging task. But I also believe this will be a chance for us to think about the significance of being a women's university. … It's an opportunity to update our campus as a place to truly think about gender equality in the context of diverse sex," Satoko Oyama, a professor at the university and head of the working group, told The Japan Times in a recent interview.
Women's universities that have remained strictly single sex are at a crossroads, facing shifting views on gender and growing awareness of sexual diversity.
Following the move by Japan Women's University, one of the nation's oldest universities for women, a few leading all-female institutions have officially begun discussions in recent months to clarify their admission criteria on gender, saying it is time for them to think about broadening their definition of women.
"I believe it will take a long time (to reach a consensus)," Oyama said, explaining that the group faced opposition from some alumnae. The panel was also targeted with negative comments on social media that were clearly based on misunderstandings and prejudice.
Acknowledging that people have different concepts of gender, Oyama said the working group wants to take things slowly to gain the acceptance of students and their families as well as alumnae.
Currently, women's universities only accept people listed as female on their family registry.
Under the Family Register Law, the registered gender can be changed, but the hurdles are high. Conditions to change one's gender include the absence of functioning reproductive organs after going through gender reassignment surgery. Only people aged 20 or older can undergo the surgery, thus the usual university applicant — generally around 18 years old — may not be able to undergo gender reassignment surgery and change their registered sex in time to meet the eligibility criteria.
Ochanomizu University, one of two all-women national universities, also formed a committee this year to evaluate its policy on transgender women who wish to study at the institution. The move came after it received an inquiry from a transgender person last year who said the school was the only one offering the coursework she wanted to pursue.
"Considering the aspects of diversity, I believe we need to think in a broader way, rather than sticking to a narrow perspective about the nature of a women's university," said Yayoi Izaki, a vice president at Ochanomizu.
There are many things to consider and overcome before the school can broaden its admission policy on gender, said Toru Miura, another vice president at Ochanomizu.
In addition to the issue of how to judge applicants' gender other than by using official family registration records, the school needs to gain the acceptance of other students and their parents as well as alumnae. Other issues to consider include whether to add special changing rooms or gender-neutral bathrooms, Miura said.
He said given the long list of factors to consider, it will take at least until fiscal 2019 before Ochanomizu can change its admission policy.
Kimiko Murofushi, president of Ochanomizu University, said the school wants to work on the issue carefully to avoid future difficulties.
"It would be a pity for transgender students if they enter our university while our opinions on this issue vary," Murofushi said. "But I personally think the scope of women can be broadened to include those people who are not listed as women but identify as female."
Similar discussions about whether to allow transgender women have been cropping up in the United States in recent years. Since 2014, the so-called Seven Sisters women's colleges, a consortium of prestigious colleges on the East Coast, changed their admission policies to allow transgender women.
Tsuda University President Yuko Takahashi, who conducted research in the U.S. on five of the Seven Sisters colleges between 2013 and 2014, said most of the schools decided to accept transgender women based on the applicants' own claims and not on medical certificates.
"But in Japan, as long as their family registration says they are men, even if they identify themselves as women, it does not matter," Takahashi said. "That's the current situation. It does not reflect the needs of GID students."
Following changes in the U.S. and the decision by Japan Women's University to launch its working group, Tsuda, one of the nation's first private women's universities, kicked off discussions in May about its policy on transgender students.
"We are still in the process of discussing what kind of consensus we will be able to reach," Takahashi said. "We also have to listen to the voices of alumnae and students, as well as their parents. So it may take a long time."
Women's universities in Japan were established to provide equal education opportunities for women who were marginalized because of their gender. Today, many of these institutions place their focus on nurturing female leaders and empowering women who are still a minority in many areas of society, including politics and business.
The experience of learning in an all-women environment may also be of value to transgender women, university officials said, because if they are to live their lives as female they will face the same issues women face in a male-dominated world.
"For a long time, we've been taught there are men or women and nothing else. But the gender binary is no longer a true reflection of the reality," Takahashi said.
"This is something not only for women's universities. We need to learn how to understand gender in a way that reflects the reality. … I believe we are in the midst of establishing a consensus."
https://www.japantimes.co.jp/news/2017/09/19/national/social-issues/japans-womens-colleges-grapple-with-shifting-views-on-gender/#.WcGm30uGPrc